---
Carlene Paquette - Race Reports
This page was last changed: June 7, 2007
---
"Perseverance is not a long race; it is many short races one after another."
Walter Elliott, Cited in BITS & PIECES
"DETERMINATION - The race is not always to the swift... but to those who keep on running"
"Doctors and scientists said that breaking the four-minute mile was impossible, that one would die in the attempt. Thus, when I got up from the track after collapsing at the finish line, I figured I was dead."
-- Roger Bannister, after becoming the first person to break the four minute mile, 1952.
---
Contents (in reverse chronological order):
2002
2001
2000
1999
1998
---
Ottawa Half Marathon - October 13, 2002
Hi Folks

Sunday I ran the Ottawa 1/2 Marathon. Forecast was for a wet day and I was dreading running in the rain. Luckily, the rain held off until after I finished which I really appreciated. (The drive home was terrible though as the rain was substantial.) Before the race while standing in the bathroom line I saw visiting Toronto Penguin Maryanna and she smartly cut the chatting short and got into the line herself. After using the facilities I decided to go find the start line and position myself near the back of the pack. Maryanna found me before the start and we ran the first kilometer or so together. Then I told her I'd see her at the end and she pulled away.

The elevation profile for the race shows a 65 m elevation change during the race. I have to say it seemed much worse while actually running it though. We were forever climbing uphill and seemed to do very little downhill running in return. Recently my knees have been giving me some problems. Hill climbing and running on slanted surfaces are definite triggers. During the race as I was plugging along my knees were definitely talking to me. I think around the 16K mark I resolved to seek medical advice :(

As usual for me I carried my water bottle and pouch and got the bottle refilled at some of the aid stations. At the others I didn't stop but just kept plugging along and thanking the volunteers for coming out. Cytomax, the sports drink, was moderately vile tasting and surprised me by foaming up inside my bottle. Weird.

Around 17 K I saw my husband's parents who had come down to watch the race. I saw them before they saw me and kept waving to catch their attention. My mother-in-law complained that she had forgot the camera at our house. I told them I was starting to feel a little tired. They told me they'd see me at the end. I kept plodding along. The final part of the race is run as a loop around the museum grounds. It seems cruel that they make you wind around so much before finishing. When I got to the finish Maryanna was there cheering and I did a nice sprint and passed one person. Then we chatted for a minute and I saw my in-laws. Talking with them after the race was nice. I missed Maureen's finish but saw her in the finish area (and never did get to talk to her - she seemed to disappear). They were very supportive and stood with me in the food line and offered to sit with me if I wanted to take a sitting break. (I told them I'd probably freeze up if I sat down.) After a while they decided to walk back to their car and I told them I'd be leaving shortly as well. I saw Maryanna (now warmly dressed) and stayed with her for a bit to listen to the awards. Then I snapped a couple pics of Maryanna on her camera, wished her a safe trip home and we parted ways. I got in the car and, after a short stop to buy a diet coke, drove home through brutal rain. After I got home I rewarded myself with a hot soak in the tub and a big lunch with a piece of pumpkin pie.

My quads are still sore 2 days later. That hilly course took a lot out of me. I'd do this race again, but only after doing hill training as part of the build up.

My results were:
2:13:00 (Chip)
4/4 Women's Clydesdale
308/379 Overall

Carlene

---
Try a Tri - August 31, 2001
Hi Folks

Did my first tri Saturday ... the Try a Tri (200m swim, 15K bike, 5K run) associated with the Ottawa 1/2 Ironman. Had a great time despite a few mistakes along the way. I started the day oversleeping but managed to get there no problems. Saw the 1/2 IM start and watched the swim exit to see what was happening with that. Haven't been swimming in ages so wasn't sure how that would go. Swam in my cycling clothes which was fine. Forgot goggles though which was stupid. Also wore water sandals to swim in for the first time to avoid foot problems with rocks (there isn't a beach for the exit - just rocks and a grass incline with volunteers helping to pull you up). Swim-bike transitions are much more complicated than Duathlon transitions (where all you do is change shoes, grab helmet and bike).

This was the first race with my new bike and it was great riding it. Max speed was 38 km/h but the average was under 30 :( Had some nausea on the bike which I assume came from swallowing some lake water. Anyhow, I did it.

Headed out on the run and legs felt dead with the right calf being particularly tight. However I was determined not to walk and to just cruise along the canal pretending it was just a regular run. Encouraged many others and was in turn encouraged by some of the participants. Final time was 1:09:38 (I think) which should have netted me first ladies Clyde but the didn't register me as a Clyde (GRRR!) and they didn't give out the ladies Clyde awards. Ah the confusion of races. So... I have emailed the race director about the registration error and they fixed it in the results for me. WOO HOO! (I registered for 2 other events of theirs this summer as a Clyde so this should be no big surprise.)

That's my story. I'm pretty pleased and hopefull that next year I can do some more Tris and see some improvement.

Carlene

So... Here are the stats:
44/76 overall, 1/3 Women Clydesdale (was 23/47 women 30-39)
Swim 7:34 (30th place) - includes transition 1 time
Bike 31:34 (27th place)
Run 30:21 (60th place) - includes transition 2 time
---
Graham Beasley Duathlon - July 21, 2002
Yesterday I had the pleasure of competing in the Graham Beasley Duathlon in Carleton Place. The race is a 10K run, 40K bike, 5K run. Last year I did this race in 3:11 and so I was kinda hoping to match that time. However, it just didn't happen. There were minor course changes this year and some believe that both the run and bike routes were a bit long. It was also another hot July day with temps of 32C when I finished just after noon.

Here's last years and this years results for comparison:

| | | |
| --- | --- | --- |
| | 2001 | 2002 |
| Time | 3:11:14 | 3:20:30 |
| Run 1 (10K) + transition | 1:02:37 | 59:08 |
| Bike (40K) | 1:34:57 | 1:43:32 |
| Run 2 (5K) + transition | 33:41 | 37:52 |
| Place | 94/97 (3 DNFs) | 36/37 (1 DNF) |
For comparison here are the lead men's ladies times from both years:

| | | |
| --- | --- | --- |
| | 2001 | 2002 |
| Mens | 1:55:55 | 2:06:37 |
| Ladies | 2:07:06 | 2:21:11 |
So... as you can see all the times were slower. This makes me feel a bit better.
My first run went really well. They started us with the 10K racers and so for once I had some company on the run and didn't have to run completely alone. During the run I had drank my water bottle dry and drank water/doused myself at all the aid stations. I finished this run in 58:16 watch time and then headed into the transition. Some of my running club friends were there cheering which was nice. My bike was all alone. All the rest of the athletes were out on the course. That was kind of depressing. However, I quickly changed my shoes, put on my camelback and helmet and grabbed my bike. (You run to a line at the end of the transition zone before you are allowed to get on the bike.)
Mounted the bike and was off. Bike was tough going as there was a headwind. Saw lots of people coming back, many of whom were cheating and drafting. Grrr. 20 minutes into the bike I was passed and I spent the rest of the bike trying to find that lady again (and failing). Reached the turn around in 55 minutes. Finally, a tailwind, at least for a bit. The bike was a challenge as my feet and calves were cramping. I kept drinking even though my Gatorade/water mixture was not that appealing. I began to fantasize about a nice cold Diet Coke and promised myself I'd buy one after the race. Kept plugging along and thanking the volunteers at each turn who were patiently waiting for me to reach them so they could go back. During the bike I saw a number of turtle crossing signs but no turtles. I did see a Great Blue Heron flying and, on the way back, saw a burned barn right by the side of the road. I still can't believe I didn't see it on the way out (I must have biked within 3 meters of this barn). I began to get emotional and discouraged. I wanted to quit. Terry, one of the race organizers was out picking up the volunteers and rode his van beside me to see how I was doing. I lied and smiled and he drove off. *Damn!* There goes my chance to quit. I kept pedalling. Finally got back to the transition area.
The transition area was crowded with people who were finished their races and putting their stuff away. I hollered "Excuse me" and people scattered so I could get through. Again my friends were cheering. Two people from work - Jeff and Don - were cheering and I was not in a good mood. I asked Jeff to tone it down and suggested he could run the 5K with me again if he really wanted to be helpful. Thankfully he shut up :) After changing my shoes and ditching my helmet I was off. The final run was BRUTAL. Everytime my HR got over 170 I began panting and feeling lightheaded. So... I switched plans and began run/walking. I walked till my HR dropped and then ran a little more. It was a death march and I felt so hot, tired and miserable. During the final stretch I had no kick. I just ran it in and was so happy to be done. My coach was there congratulating me and I quickly got 2 glasses of water and moved to the shade for a little rest. After a few more minutes I dragged my stuff back to my car and then bought my diet coke, ate a banana and watched the awards.
So... I am a bit disappointed that I wasn't able to match last years time. However, I finished upright, smiling and on the same day. I also think I raced smart and to the edges of my abilities on that day. Maybe next year I'll be able to kick some serious butt. We'll see because I'll be back.
Carlene

---
Motionware Canada Day 10K - July 1, 2002
Hmmm... First I need to start with an apology to Una. I missed her totally in the crowd. I really didn't think finding Una would be a problem as I found everyone else there I knew except you. Next time we'll set up a meeting plan for before and after. Again, I'm sorry we didn't get to encounter. Sounds like you talked to Sue from my running club (isn't she really nice). I looked in the results and saw that MAJOR PR you pulled off and knew why I missed you. You finished way too fast! I was down in the shade near the end of the final stretch watching for you from 65 min on and you were already done. OY! I feel like an idiot! Congratulations on PRing in such conditions. I think next time you are going to be even faster. By the way... I totally missed the dead squirrel.

My report... I was trying to run a 5:40 kms which would yield a new PR of 56:35. That was the plan coach Jane and I laid out. Of course it didn't happen. It was far too hot to be setting PRs. Ran the first km in 5:35 and tried to slow down a bit. I was with Howard
from my running club and by 3K he started to fall behind. Since this is a 2 loop race at the 5K mark we pass the crowd and the finish area. My coach was yelling encouragement and I saw my hubby and waved to him. I also told Howards wife that he was behind me and kept going. After the 5K mark there were tons of people walking. It was ridiculous. I ran on and stopped at the next water stop to refill my bottle. By this point I am sure I looked like a drowned rat. I was getting sprayed and pouring water over myself at every opportunity. My heart rate was solidly in the 180s for this race and during the middle of the second loop I was cruising along at 185 and thinking how good my legs felt but how HOT I was. UGH! I began to see people warming up for the 5K and they were really encouraging. Before you knew it I was at the final water stop getting sprayed and there was the 9K mark. My coach met me there and ran with me for 3/4 of the last km. She was encouraging me to dig deep and try to pass people. I only passed one person in that last km but it ended up being a 5:20 km. Considering it was the end of a really hot 10K I'll take it. After finishing I grabbed more water and asked for Gatorade. My one criticism of this race is there was no sports drink. On such a hot day (and Canada Day always is hot) it was needed. I met my husband and he went to the car for the cooler and our gatorade from home. I walked down and cheered on the final finishers of the 10K (this is where I missed Una. I think I was talking to my husband when you went by). I returned, drank about 1L of Gatorade, another 1L of water and then finally had a diet coke. AH REFRESHING! Final watch time was 58:53 (about the same time as last year when it was also sunny and hot but cooler than this year).

We watched the 5K with our friends Steve and Julia and their kids and waited for the Tot Trot. This was going to be Tyler's first race
(he's 2). He had a number and we were ready. We did the Tot Trot although Tyler really walked it. (Hopefully next year he'll run more.) He got a nice red ribbon which mom pinned to his bib. Then he got a Canada Flag painted on his face (which he liked) and we re-grouped. After that the 1.2K fun run started and we watched that and then headed home.

Carlene

PS - Here are some photos.


Before the race - notice my patriotic outfit.
Jane and I chatting before the race and trying to stay cool.
After the race. I'm a bit wet but really happy to be finished.
Tyler and I running (well, walking really) in the Tot Trot

Below: Julia (aka Mommy), Tyler and I. Notice Tyler's cool Canada Day face painting.



---
Smiths Falls Classic Duathlon - June 22, 2002
This run was dedicated to Penguin Ray Moses who is currently unable to run due to health issues. He was the angel on my shoulder for this event. Now on to my report.

Saturday Ray and I ran the Smiths Falls Classic Duathlon. Weather forecast said the temps were about 20C, overcast, 55% humidity and wind 19 km/h. The wind was supposed to die down in the morning, this would have been perfect for the bike portion of the race, but that never happened :)

This was my 4th duathlon and first one this year. Due to high water levels the swim in the accompanying triathlon was cancelled and everybody was running the duathlon. This made for a big field (400 athletes). The organizers decided to switch the distances around and put the 5K run at the beginning so that the competitors wouldn't all arrive at their bikes at the same time. The distances for this race were 5K run, 18K bike, 3K run.

My coach was kind enough to drive me to the race (about 45 minutes drive) and we got there nice and early. I got a perfect spot for my bike in the transition area and had time to study the transition in/out spots and the maps of the various courses. This helped me to visualize how everything was going to go. I also did a short 10 minute warm up finishing 10 minutes before the race started which was helpful.
First run:
The race started more or less on time. Four hundred of us set off along a very narrow trail and I ended up running on the grass. Withing the first few minutes I nearly turned an ankle and resolved to watch my footing more carefully. During my first run my HR was around 185 but did climb to 189 at a couple of points. This run saw us going down this pathway, across a one person wooden footbridge (big congestion with the runners here), down more trails, over boat locks in the river, down sidewalks and down a road over a bridge. The whole course was narrow and had generally poor footing. I finished the first run working hard and feeling strong in 28:11 (watch time).
The bike:
I did a really fast transition and was out on the bike. The bike course was out and back along a country road. There was a strong headwind which was annoying. My legs felt tired at the start of bike and I allowed myself 5 minutes of easy riding and then tried to hammer it. HR around 179 for much of the bike. I was passed by some people on the trip out, mostly folks with aerobars and fancy bikes. On the way back the wind felt like more of a cross-wind than a tailwind and I worked hard to pass a couple people and wasn't passed by anyone. WOO HOO! Dismounted correctly at the line and ran to my spot. Bike computer results say Time 41:37, Max 37.5 km/h, Avg 27 km/h, Dist 18.7K.
Second run:
Someone had dumped their bike in my spot so I had to reach for my shoes. Forgot to get transition time on my watch. (My calculated transition time was really fast though.) Was quickly heading out on the second run which was out and back along the river trails we ran at the beginning of the 5K run. Trail and grass. UGH! Legs were tired, it felt hot and I was really sweating. HR around 175. Tried to get it up higher and move faster but just didn't have the leg turn over. Saw lots of people walking but refused to do that. On my trip out I saw some of my friends coming back and they all looked strong. I was so happy to reach the turn around point and head back. The final stretch of run was through thick grass between the transition area and the river. Finally I saw my friends and was at the finish line. I am really glad Ray was running with me because it is really hard to sprint over grass when you are running alone.

Times (by watch) - First run = 28:11, Transition 1 = 1:12, Bike 41:59 (including T2), Transition 2 was between 23-26 seconds (using bike computer and watch/Sportstats to calculate), Second run = 19:35. Total time was 1:30:57 by my watch.

The official results from Sportstats list the following: Time 1:31:00, 39/52 Women, 80/96 overall, 2/2 Womens Clydesdale. First run finished in 82nd place (time 28:13), Bike in 70th place (43:13 includes transitions), second run in 83rd place (19:35).

We stayed for the awards. Two of my friends got age group awards. Lorne was first in his age group (second Duathlon ever) and Manuel was 20th overall and 3rd in his age group (first Duathlon ever). WOW! These guys are great.

Although I was second clydesdale they didn't do any awards for that category. This is both good and bad because I didn't really feel like I had earned an award (I would have been 13/13 in my age group). However, I wonder if the other Clydesdales were disappointed.

So... That is the story of our race on Saturday. Ray - Thanks a million for keeping me company through the good, the bad and the ugly.

Flipper hugs
Carlene
---
Do it for Dad 5K, London Ontario - June 16, 2002
While home in London Ontario on vacation I saw a sign for a 5K race. My coach had emailed permission to do the 5K as long as I had no expectations and considered it more of a training run. The Do it for Dad 5K raises money for prostate cancer research and is a perfect race for Fathers Day. Due to torrential rain I put Friday's bike/run workout off till Saturday. So, Saturday I biked 20K and then ran 15 minutes. Being an idiot, on Saturday afternoon I also signed up for the race.

Sunday morning turned out to be another rainy day. I ran the 5K in 26:38 thereby smashing my previous 5K time of 27:30 (from August 2000). I was really happy. Unfortunately I was also sad because during the race I had started to get greedy and hope for a slightly faster time. (It was seeing that first kilometer split that sucked me in to believing that a 25:XX time was possible. SIGH! Maybe next time.)

I briefly saw Dave Lipson who was on the path nearby as the race started (doing his own workout) but didn't see him after the race. The race was relatively flat and run on a bike path. I did about a 10 minute warm up finishing 10 minutes prior to the race. Start was a bit congested but that was typical. I kept my HR in the 180's for as much as possible. In retrospect I think I paced the race poorly and am a bit disappointed with that. Splits are: 1K = 5:03, 2K = 5:13, 3K = 5:25, 4K = 5:29, 4.5K = 2:49, 0.5K = 2:37, (Making final K 5:26).

Of course this assumes accurate markers. Overall pace was 5:20 K's or 8:34 mile pace which is not bad. I did peak at my watch after the first K and was hoping for 25:XX but it was not to be. Legs were definitely tired for this one. Hopefully I can do better in August for the Graham Beasley 5K (although that will likely be a hotter day).

So... that's my race story.

Carlene
---
Rock 'N Roll Half Marathon, Burlington Ontario - May 27, 2002

Well, a month had passed since my Personal Best 1/2 marathon in Kentucky. In that time I had some ups and downs in my training. One problem was some knee pain that left me feeling like something was under my kneecap. That was not fun and resulted in cutting some runs short. I also had problems with one of my bike workouts when just 12 minutes into a very windy ride I started feeling poorly. I stopped to blow my nose. Then I felt dizzy and started out sitting by the side of the road with my bike, then laying on the ground. After a few minutes, when I was feeling better, I made the tough decision to bag the workout and head home. This involved walking up a killer hill that I really didn't feel safe riding up. I am still unsure what was wrong with me that day but I didn't want to be an idiot and start off a big story with "First I nearly passed out, then when I felt better I pressed on and something really bad happened to me." Instead I just get to say I cut my workout short and became a bit more of a couch potato :)
Another thing that hindered my training during the past few weeks was the weather. We had a lot of cold rainy days and even some wet snow. This was not ideal training weather – particularly for cycling (which I refuse to do in real downpours). However, I did some stuff and generally started to feel better about my training, particularly after a nice speedy run on May 21st.
Heading into the Rock 'n' Roll Half Marathon I have to say I had low expectations. I did not expect to better my time of 2:05:55 set at the Kentucky Derby Mini just a month before. Instead I was hoping to run 2:10-2:15 which would require a decent effort but shouldn't require killing myself. I lined up with the other penguins and started a bit farther back in the pack then I probably should have.
This made the first few km's a bit uncomfortable trying to pass people and find some space. I ran briefly with Daniel and he quickly advised me to remove a layer of clothes to prevent overheating. Once I had done that he sent me along my way. I saw Julia Kim ahead and tried to catch her. Let me tell you now, it didn't happen. I watched her neon orange singlet stay basically the same distance ahead of me for the entire race. That was a bit frustrating :( However, it also helped me gauge how I was doing and know that I wasn't slowing down too much. Around 15K I picked up another runner who was running her first 1/2 marathon. We stayed together till the Penguin Aid station when she stopped for a walking break.
I have to tell you – this race has a few major highlights for me. The first was starting with so many people I knew. Next was having two friends from my running club in Ottawa out on the course on their bikes. Having them wave and cheer (early in the race) and then ride beside me and encourage me to get moving near the end when I was tired and cranky, well, that really helped. Having Julia to try and catch was a good motivator :) Finally, being treated like a HUGE CELEBRITY at both the Penguin Aid station and the finish area. Well, words cannot describe the huge boost I received from everyone there. I felt like I floated through the aid station and most of that final finish sprint (though that sprint did feel hard).
This race was a big confidence builder for me as part of me wondered if I could run a good 1/2 marathon time by myself, without the expert pacing of Bill Kramer. When I ran KD mini with Bill it was a huge milestone for me because I ran harder and longer than I have ever done before. I also think KD Mini was ideally paced and I am so pleased with our negative splits. My time of 2:05:55 was over 4 minutes faster than my previous 1/2 marathon time. Rock 'n' Roll half, though slightly faster, was run at a lower heart rate and on a much flatter, easier course. My time was 2:05:23. I am delighted with both races. I hope this is the start of an awesome racing year for me. The greedy PR part of my brain is wondering if I could eke out another improvement by training for a fall half marathon. However, I'm not going to commit to anything right now. I am going to savour this awesome spring.
Carlene
PS – For those who are interested my splits were:
1 Mile = 10:29
10K = 58:41 (9:27 pace)
16K = 1:34:59 (9:33 overall pace, pace for last 6K = 9:44 miles)
20K = 1:59:18 (9:36 overall pace, pace for last 4K = 9:47 miles)
21.1K = 2:05:23 (9:34 pace, pace for last 1.1K = 8:53 miles)
So... I ran slight positive splits. However, I'm not going to complain :)
---
Nordion 10K - May 11, 2002

Well, my recovery from my half marathon PR was going well and so I decided to throw in another challenge – a 10K race. My legs were finally feeling more like normal and I thought the 10K would be a nice treat.
The Nordion 10K is part of the Ottawa race weekend. There are a number of races including 2K, 5K, 10K, half-marathon and marathon. There are also inline skate races. This year the event drew 17,080 racers and raised $500,000 for breast and prostate cancer research.
This was my first time running this 10K but I have watched it before and knew it would be big and quite busy. I registered on Tuesday and headed down to the race expo on Saturday. The expo was bigger than it has ever been. There were 5 major
running stores represented as well as vendors like Timex, Powerbar and The Stick. There were also many races there trying to attract entrants. It was electric. I did some shopping and bought some great stuff including a Canada Flag singlet and matching race socks.
I returned home hoping that my husband wouldn't mind my shopping spree. I showed him my purchases and then changed into my running clothes. I was ready to go. This race is unusual because it starts at 6:30 pm on a Saturday night. Steve, a friend from the running club, picked me up and we went down together. We were early and had time to check out the whole start/finish area and decide where we would meet each other afterwards.
Soon it was time to line up. The crowd was huge. At 6:15 the 10K inline skate race started which made a bit more room for the rest of us. My plan had been to locate the 55-minute pace bunny and try to stick with him. Of course in the mass of 4000 runners I couldn't find him. Steve and I picked a spot as far back as we felt we needed to be and waited. When the race started we quickly became separated. I passed many walkers who had started ahead of us. UGH!
The kilometre markers along the course were hard to find. At one point I saw the 55-minute pace bunny but was unable to catch him. Around 38 minutes into the race I coughed and suddenly had bile in my mouth. YUCK!!! I did a shoulder check, moved over to the side and walked/drank for a minute. I determined I was fine and got moving again. The Gatorade at the next water stop got rid of that foul taste which was good. I was dragging along wishing the race were over when Steve caught me. I told him to go on ahead and not worry about me. I spent the remaining 2K trying to catch him and the rest of the people in front of me :) Steve finished in 57:07 and I was 36 places behind him with a time of 57:20.
Luckily we found each other quickly in the crush after the race and headed home without incident. I finished the evening off with Harvey's take-out and watching movies at our best friend's house. It was a perfect finale to a great day.
Well, now it is onward to PWC and the 1/2 marathon. Given that this will be my third race in a month I am trying to keep my expectations reasonable. I would like to run 2:10-2:15 for the 1/2. However, if I happened to have another perfect day like I did in Kentucky I would try for another 2:06. It would have to be absolutely perfect though... I am not as rested as I was for Kentucky and so doubt it'll happen. I think I'll be too busy having fun to worry too much about the clock.
Thanks
Carlene
---
There are two reports from Kentucky Derby - Mine and one from Indiana Penguin Bill Kramer.

Well... the past 2 weeks have been focused on one thing -- tapering properly for the Kentucky Derby Mini Marathon. I kept telling myself that I could not do too little because I was tapering and resting was my job.

While I was running with the club on Wednesday I spoke with one of our club members named Wanda who has been setting PRs this year and we talked about my upcoming race. She told me that the key for her in her last 1/2 (the weekend before) was to really put it on the line from the start and risk having the wheels come off later in the race. She set out to do her best and was rewarded. I pondered that but was unsure. When I had discussed my goals with my coach, Jane had suggested that I select goals like "finishing strong" and "feeling good" instead of strong time goals. After all, KD Mini was a challenging course. Add to that unpredictable weather and my small injuries of late (foot, ITB) and anything could happen. Finally, constantly improving your time in each race is unsustainable. Eventually, those improvements slow down and stop. I knew I had been blessed with a huge improvement last fall and asking for more now was unrealistic.

During my last run before the race I felt terrible. My right knee hurt unlike anything I had felt during training (where I had some ITB issues). I persevered and ran long enough for my body to warm up and get rid of that knee pain. That run felt like an eternity but really only lasted 16 cold minutes. However, I really didn't know what race day would bring and was unsure what I really wanted.

Friday in Louisville while talking with the Penguins Bill Kramer asked me I wanted to join the Penguin Pace Group they were putting together for the race. I asked what pace they were planning on and he replied "2:20". Without thinking first I replied "Nope. I want to run faster than that." The Penguins in the room all started laughing and I felt extremely embarrassed. I went on to explain that I would like to match my PR time of 2:10 set last October. My training times for this race were similar to those of last fall, and I thought matching my time on this more difficult course would be fine.

Bill, sweetie that he is, decided he would like to pace me. We were both a little nervous about this. Bill is a faster runner than I am, and I didn't want to hold him back. On the other hand, he had been planning to run with the 2:20 group and not try to run
for a PR, so running with me would not destroy any of his goals. I have also never run a race with a stronger runner to pace me for the whole way. Since a 1/2 is a long race I was worried that I might not be up to the challenge of avoiding the Bite Me Zone
and being pleasant for over 2 hours.

Friday night we went to the delicious Penguin Pasta dinner organized by Bill and his wife Jody. A lot of fun was had by all. The laughter was contagious and I started to relax. Saturday morning we caught the bus the start and I proceeded to make umpteen trips to the bathrooms. I handed over my jacket to Kathryn Lye prior to the start and held on to a long-sleeved shirt because I still felt cold. Bill and I lined up near the 10 minute pace marker with Mary D and some other Penguins around us. I usually run races entirely by heart rate -- taking the occasional splits for afterwards and ignoring my watch. This race was very different from most because there were clocks and split callers at every mile. Ignoring the clock would be impossible. We started and I realized that I still felt like another trip to the bathroom would have been welcome and I was hungry. Ooops!

There were thousands of people and we spent a lot of the race trying to find our own space. We bumped arms many times as
we were crowded on the course. We finished the first mile in 10:20 on my watch and we learned it had taken us about 3 minutes to reach the mats. About 3 miles into the race we had looped back to Iroquois Park and the hills began. The next 3 miles of winding up and down felt challenging but good. The park was beautiful and the winding hills were easier to take mentally than a long straight incline.

My winter hill training was paying off. My heartrate was climbing in the high 180s, higher than I normally run at for the first half of a race, but I felt good. I was warm enough that the shirt came off. We reached the 6-mile mark in the park and were very close to my 10K PR time. I knew that if I could keep this pace up I could succeed in my time goal.

As we came out of the park I told Bill to look for Kathryn Lye's pink hat as I wanted to drop my long-sleeved shirt with her if at
all possible. We found Kathryn and Bill gave her my shirt and stopped for a kiss. I continued on -- afraid to break pace lest I lose it. Bill quickly caught me and we kept moving along. Just prior to 9 miles we approached an aid station with Powerade. I stopped for a brief walk to down a glass of Powerade and pour another into my water bottle. My fingers were swollen and salt was caking my face. Gradually things had begun to get harder. I was running between 182 and 187 HR without talking. I told
Bill that, although I didn't have a ton of energy to spare chatting with him because I was working so hard, I really appreciated his
company. I was really hot and was pouring water over my wrists and appreciating every cool breeze. Bill on the other hand, was remarking that he was cold. LOL!

Throughout the race we had numerous discussions about our pace. Generally they went something like this:
Me "Hmmm... this time at X marker... If we run the next X miles in X minutes we'll make my time."
Bill "I think we're running faster than that. We have been running a 9:3X something pace for the whole race."
Me "Did I mention that I can't do math while I run? Hmmm... tell me about that [tree, plant, building]."

Eventually the miles ticked by. I knew we were on a PR pace. Bill was relentlessly dragging me towards the finish line. We were doing little fartleks with each person we passed and I was working hard. Bill looked as fresh as ever and I was jealous! I was tired. I had no energy to chat with him. Since mile 9 we had been able to see downtown approaching but they cruelly make you wind around to the actual finish.

Finally we reached 12 miles. My internal arguing went like this "I'm tired... I want to slow down. Don't be an idiot... this is the END. Don't blow it now. You can rest in a few more minutes. This mile must have been marked wrong... it is taking FOREVER! Think of your keywords... Fast... Strong... Easy" (Repeat tirade endlessly) Bill was dragging me along. He was about a metre ahead of me and I was certain he was speeding up. I was struggling. I was gasping like a fish out of water and making horrible breathing noises. I am sure the other runners thought I was about to have a cardiac arrest. He ignored my distress and kept dragging me along. Finally we turned the last corner and could see the finish line. We ran side-by-side and I tried to sprint across the mat. It was done.

Clock time 2:09:51. Watch/chip time 2:05:55 (9:37 pace)

Our splits were:
1 mile = 10:20
6 miles = 58:35 (9:46 pace) [Time from mile 1-6 = 48:15 (9:39 pace)]
10 miles = 1:36:35 (9:40 pace) [Time from mile 6-10 = 37:39 (9:30 pace)]
12 miles = 1:55:40 (9:38 pace) [Time from mile 10-12 = 19:05 (9:32 pace)]
Final 1.1 = 10:14 (9:18 pace)

WOW!

We got our medals and some food and started heading for our shirts. We ran into Josh Saak and started talking about our races. (Josh ran a speedy 1:24:24 and placed 84th male.) I handed Bill my food, sat down on the road and began
stretching. I was, and remain, sore. Hammering through those hills and negative splitting that course has beat up my legs. However, I am still grinning and it was worth it.

Over the course of the weekend I met lots of great folks. All of them were SUPER nice. All had different goals. It is rare for me to finish before the people I go to the race with. I have a lot to learn about navigating crowds and being back at the finish to see others finish their races. Despite missing all the other 1/2 marathon finishes, every Penguin I met rushed to ask me how I had done and CROWED when they learned that Bill had paced me to a new PR. I was blown away at how happy everyone was that I had exceeded my expectations. From time to time we have discussions about what makes people Penguins. That unconditional support and celebration of someone else's success defines it for me.

I will not be able to name all the folks I met over the weekend or all the locals who were so very helpful and hospitable to us. I had a fantastic time meeting everyone. The conversations, stretching demos, shopping trips, eating extravaganzas and general silliness were AWESOME. I wish I could go back tomorrow and do it all over again (although my legs might have something to say about that). Thanks to everyone for everything.

Flipper hugs
Carlene

PS - Here is a photo from our trip to Churchill Downs on Sunday. I'm holding the great shirt I bought for my husband Andre. Behind me in the white is Ellen Weisman from NY, behind me to the left is Marce from Iowa and to the far left is Tonya Fisher's back.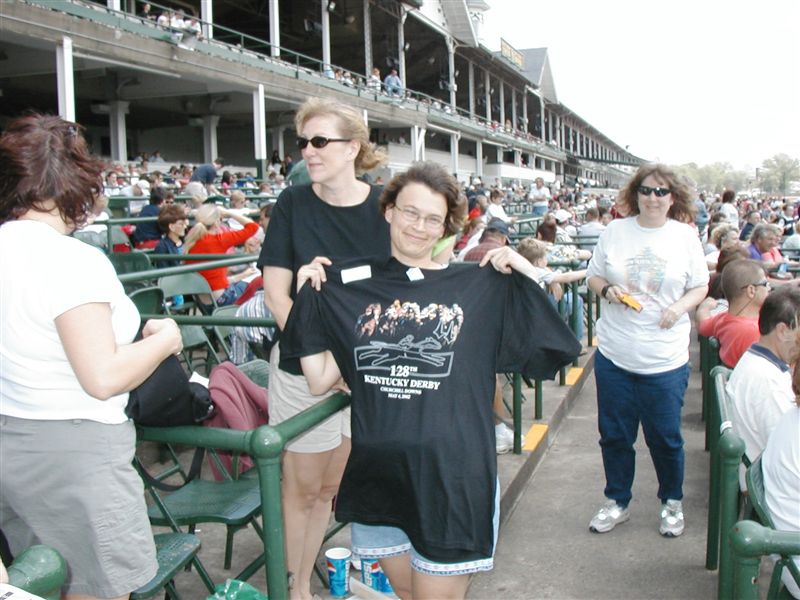 Written by Bill Kramer aka Billiam
Above everything else, the fact that complete strangers from all across the world can log on to a computer, write daily ramblings, and learn to become a virtual family, well, it still amazes me to no end. To travel across the country, and out of the country, to actually meet in person and find that the people are even more awesome in person than on list, that just blows me away big time! To have folks you've come to love travel to your hometown to laugh, eat, and party together, it just doesn't get any better! I couldn't care less about the running at these encounters. I can run any old time. It's all about love and friendship baby, and that's what the weekend mostly meant to me.
My PR days are in the rearview mirror. Old joints, two jobs, going to school, family things, and on the verge of going to the AARP eligible age group have conspired against me. However, that in no way puts a damper on my love of the sport and in no way threatens to make me give it up. There are still things about this sport that turn my crank and what I witnessed last Saturday is a real crank turner!
CARLENE! CARLENE! CARLENE! YAHOO CARLENE! That little race you ran in Kentucky was ALL YOU! You have drive, determination, and intelligence. Baring injury, your potential is most likely more than you realize.
I didn't start my watch during the race. If not for the race clock, I'd have never known what pace we were running. When Carlene told me her goal was to run 10:00 minute pace and then we did the second mile in 9:45, well, I was scared I was messing her up. I even asked if I was dictating the pace. Carlene convinced me I wasn't messing her up by telling me that she was running by heart rate and that her heart rate was in the zone. Well, that was convincing until the last uphill in Iroquois Park when she told me she needed to slow down so her heart rate would fall. I told her if I slowed my old butt down on a hill, I'd never make it up! I told her I'd wait at the
top of the hill for her. But, I took a glance back and there she was right on my tail! I immediately had visions of Elizabeth Lower-Basch telling me she was slowing down only to blow by me! I know *I* didn't slow down, so I quizzed Carlene after the race. She says her rate fell, but I still don't understand how.
Exiting the park looking smooth, and glowing about being on PR pace, I'm stunned to read in Carlene's post that she was ever remotely close to any BMZ (Bite Me Zone). I do remember her apologizing for her lack of conversation, but I don't remember her not talking. LOL! I'm not a big talker so I KNOW I wasn't dictating the conversation! Heck, I ran out of information about mile 3 when I said to her, " Well, I've identified the dogwood tree and the azalea bush for you, that's all I know about trees and shrubs!"
The only thing I'll admit to picking up the pace in the last mile. Like I said, I didn't have my watch on so I wasn't real sure how much time we had for her to get her 2:10 goal. I know I picked it up a little, but Carlene was hanging on so well it was awesome! She may not believe it, but I think if I'd have dropped to 8:30 pace she would have come with me. She was too close and too excited to be denied. I just knew she was setting a big PR and I was getting really excited! Wow, coming across that line in a PR on the official
clock, and knowing we had been over 3 minutes quicker chip time, well, I had the happy feeling like I'd get when I'd PR my own self!
I'd be interested to hear what Carlene's coach thought of her breakthrough. If I were to guess, I'd say her coach isn't surprised at all. It's funny how others can see the potential in us and we are blind to the fact, letting our own self doubts and fears stop us. I believe that if we aren't sick or injured, our biggest enemy is our perceptions of our abilities, or rather our lack of faith in our own abilities. Joolya Bedulia credits Carlene's post for her awesome 10K training run the other day, but I think Joolya sort of learned more about herself at Boston with her 4:45 but is still unable to admit to herself that she's awesome. :-)
Golly, everyone who was here touched me in a special way. There is no way to put it in a post without forgetting something or somebody, so I'll just finish it like this. My weekend began on Thursday. I saw out my front window that Marce and Anne had passed and were going to park in the driveway behind my house. I hurried to the deck, closed my eyes, and held out my arms for a hug as they were pulling up. After exiting the car and into my arms, I don't think my arms were ever empty the rest of the weekend! By Saturday
evening all Jody could manage to say about me was, "You are incorrigible!" My weekend ended on Sunday night around 8:30pm when I bid Ken and Ellen good-bye, and finished the way I started, with hugs from Marce and Anne. Everything in between has given me warm memories that I never want to forget. Imagine my heart with Ken Weissman's smile. Is there any doubt I'm looking forward to
next year?
Billiam
---
Richmond Road Race 5K - January 20, 2002
The past few weeks of training has been challenging. My coach has been very cautious about increasing my workouts very gradually to avoid re-injury to my knee. Now that the cold snowy days of winter are here I am finding it a struggle. When I have been allowed to run it has felt hard. UGH!

On Sunday I raced the Richmond 5K. There was a 10K running at the same time that covered some of our course. It was slightly overcast with the occasional snowflake here and there and temperatures about –13C/8F with a nice wind.

My knee injury has prevented me from doing speedwork and my last 5K race effort was in August 2001. I really wasn't sure what to expect. However, my coach and I discussed my race plan and I selected a heart rate goal of 185 (85%) or higher for the entire race. As usual I planned to race totally by heart rate, ignoring my watch. It was also understood that if my knee voiced a strong protest I would back off as necessary.

About 20 minutes before the race I started out with 2 friends for a nice slow warm-up. They were both running the 10K and it was relaxing running with them. Eventually we turned and ran back towards the start area. The 5K start was further down the road and so I left them and kept going. (When I first started running I never warmed up for races – it just seemed counter productive. I needed all my energy for the race. Now that I have more aggressive race goals I warm-up but it still feels odd to me.) The warm-up was well timed and we didn't stand around too long before the race started and crowd started moving.

The first kilometer was spent finding some space in the crowd and then I spent some more time messing with my headband and gloves because I was hot. Eventually the crowd thinned and I slowly tried to pass people and was also passed by some others. Then the 10K speedsters started passing us. WOW! They were FLYING and it was nice seeing them running alongside us, even though it was a brief experience. The 5K course was a square so it was obvious we were getting close to the end even though there weren't any mile/km markers. Near the end my coach ran a bit with me to encourage me and then finally I saw the clock and finish, tried for the finish kick, found no extra speed available, and then it was over. I am pleased to say I succeeded in my goal. I never saw a HR below 185 and was as high as 190 several times. Afterwards I got to see the 10K winner cruise in around 32 minutes and then cheer for many of my friends doing the 10K who always finish before I do. That was a nice treat.

The final results are not yet on the web however I was 5th in my age group and 30/70 female finishers. My time of 28:12 is slower than my best 5K and I have to admit that initially I was disappointed by my results. I thought that working so hard for the whole race should have resulted in a faster time. I was a grumpy Penguin. However, I did my best. How can I not appreciate that and enjoy the fact that I am fortunate that my injury is healing and I am racing again? I can't. Life is good.

Carlene
Slightly stiff but happy in Kanata